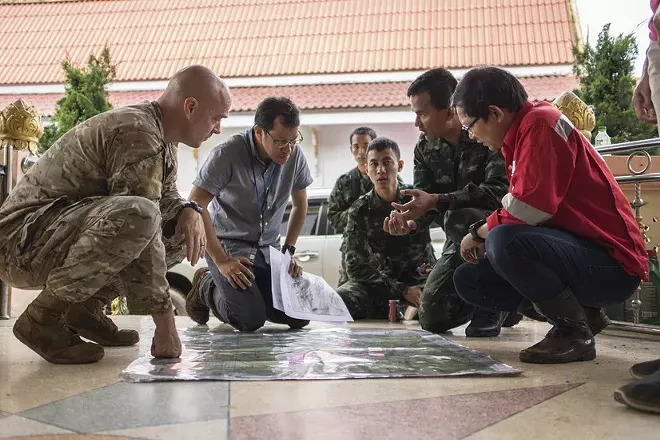 By The New York Times
It took dozens of divers, hundreds of volunteers and 18 days to do it: The rescue operation at Tham Luang Cave in Thailand has succeeded in freeing all 12 of the young soccer players and their coach, in a drama that captured the world's attention.

The final stage of the extraction mission began at 10:08 a.m. local time Tuesday, with 19 divers dispatched to the remote cavern where the last four members of the Wild Boar soccer team and their coach have been sheltering since June 23.
"Twelve Boars and coach are out of the cave. Everyone is safe. Now we are waiting to welcome our frogmen," read a post on the Thai navy SEAL Facebook page Tuesday night.
Thai officials confirmed around 9:40 p.m. that the four-member military team that had stayed with the boys in their cavern for days — a doctor and three navy SEAL members — have all left the cave together. With that, the rescue operation is officially complete.
On Sunday and Monday, around 100 divers, medical personnel and support staff evacuated eight soccer teammates. The rescue effort involved guiding boys with little in the way of swimming skills through passageways filled with churning water.
The operation also claimed one life: Saman Gunan, a 38-year-old former navy SEAL who volunteered to help in the search and rescue. He died early Friday after carrying air tanks into the flooded cave, losing consciousness underwater after running out of air himself.
In a news conference after the rescue, Narongsak Osatanakorn, the head of the search operation, said that all of the team members were safe at the hospital at Chiang Rai.
"I would like to say we have good news: We got five people out safely," he said. He added that family members would be able to visit the boys tonight, though separated by a window.
They will spend at least a week warding off possible infection, according to Dr. Jesada Chokedamrongsuk, the permanent secretary to Thailand's Ministry of Public Health.
Two of the boys rescued Sunday are suffering from mild pneumonia, said Dr. Tosthep Buthong, the Chiang Rai public health chief, at a news conference Tuesday morning.