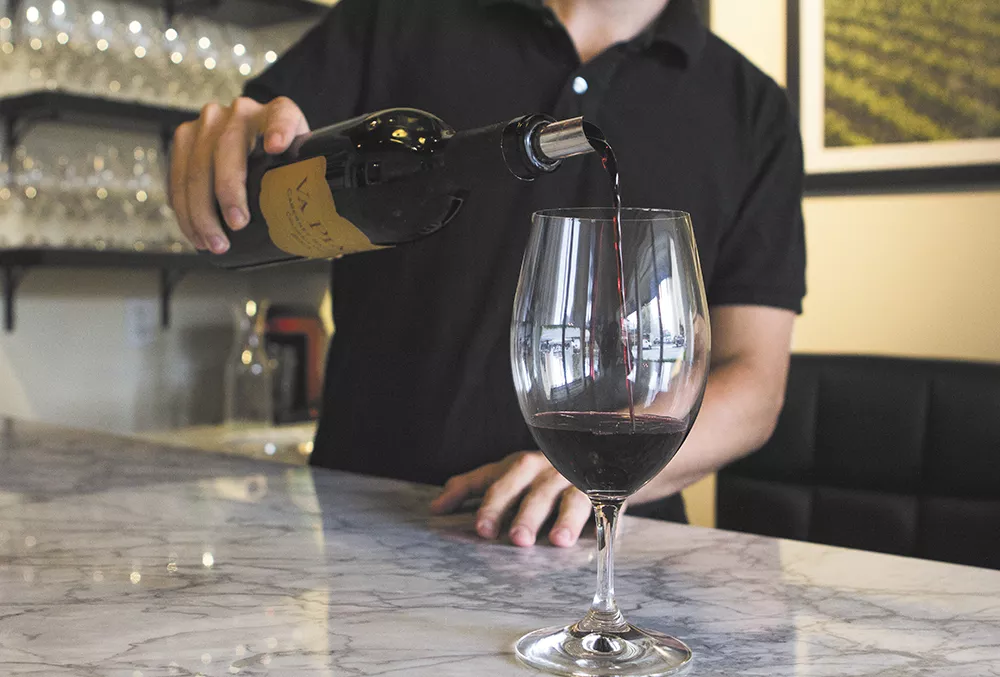 Barili Cellars
Barili — Italian for "barrels" — started as a small partnership between two families in 2008 and continues to evolve. Although production has grown to around 500 cases, they still consider themselves a boutique winery focused on quality and craftsmanship, using Washington-sourced grapes for their fruit-forward reds, blends, port and dessert wines. 608 W. Second Ave; First Fridays 4-9 pm, Second Saturdays noon-5 pm or by appointment.
Barrister Winery
Known for making full-bodied reds, the original winery space is huge indoors, and boasts one of the best outdoor patios in town. The downtown tasting room in the Liberty Building is petite, and a perfect spot for a sip before or after a reading at Auntie's. 1213 W. Railroad Ave.; daily noon-5 pm. Barrister Downtown Tasting Room, 203 N. Washington; Tue-Sat noon-7 pm, Sun-Mon noon-6 pm
Bridge Press Cellars
Best known for producing winning Cabernet and Merlot, Bridge Press is introducing its first rosé in 2016, a perfect sip for the patio space at the beautifully refurbished, century-old former Foresters of America Hall. 39 W. Pacific Ave.; Wed-Thu 3-7 pm, Fri noon-9 pm, Sat noon-close
Cougar Crest Winery
The wide-ranging styles of the Walla Walla winery have earned Cougar Crest much acclaim since opening in 2001, and the downtown Spokane tasting room has them all as part of an easy stroll through the Lilac City's Cork District. 8 N. Post St. Suite #6; Sun-Mon and Wed-Thu noon-6 pm, Fri-Sat noon-8 pm
Craftsman Cellars
Owner Greg Shelman was the first graduate of WSU's viticulture and enology program, and that education can be tasted in his various reds. One of the newest tasting rooms in Spokane, the Kendall Yards spot is comfortable and convenient for downtown dwellers and workers alike. 1194 W. Summit Pkwy; Tue-Thu 2-8 pm, Fri-Sat 2-10 pm, Sun 2-6 pm
Emvy Cellars
A tasting room in the century-old refurbished former Foresters of America Hall hosts sips of this small Spokane-based boutique winery. 39 W. Pacific Ave.; Wed-Thu 3-7 pm, Fri-Sat noon-close
Lake Roosevelt Wine Company
This winery credits the grapes grown in the shadow of Whitestone Rock for its flavorful reds, and you can taste for yourself at the diminutive downtown tasting room.
8 N. Post St. Suite #8; Thu noon-6 pm, Fri noon-8 pm, Sat noon-6 pm
Nectar Tasting Room
Want to sample several wineries under one roof? Nectar is the answer, offering sips of Anelare Winery, Coyote Canyon Winery, Northwest Cellars, Skylite Cellars and Terra Blanca Winery in the vibrant downtown spot, a large space with food available. At the Kendall Yards location, wines and beers from around the world are available by the glass or bottle. 120 N. Stevens St.; Sun, Tue-Thu noon-6 pm, Fri-Sat noon-10 pm; Nectar Wine & Beer, 1331 Summit Pkwy.; Mon-Thu 2-10 pm, Fri-Sat noon-11 pm, Sun noon-10 pm
Nodland Cellars
This spot in the Chronicle Building hosts a steady diet of live music focused on jazz and blues, including some shows by winemaker Tim Nodland himself, to go with samples of its six wines and art showcased on the walls. 926 W. Sprague Ave. Suite 101; Wed noon-7 pm, Thu-Sat noon-9 pm, Sun noon-
5 pm
Overbluff Cellars
Creating a wide array of wines from Walla Walla grapes, this tasting room is located in one of the hottest buildings downtown, home to the annual Terrain art festival, a new restaurant and basement whiskey bar. (Washington Cracker Co. Bldg.), 304 W. Pacific Ave.; Fri-Sat noon-
6 pm
Patit Creek Cellars
Located in the heart of downtown, Patit Creek offers a perfect spot for sharing a bottle with friends, or enjoying some artisan cheese and small bites with a glass or two. 822 W. Sprague Ave.; Thu and Mon, noon-6 pm, Fri noon-9 pm, Sat noon-8 pm
Robert Karl Cellars
Cabernet might be the star, but winemaker Joe Gunselman creates a full array of wines available to sip at this historic firehouse-turned-tasting room. 115 W. Pacific Ave.; Thu-Fri 2-5 pm, Sat noon-4 pm
Va Piano Vineyards
An outpost for the 11-year-old Walla Walla winery inside the historic Davenport Hotel, Va Piano's tasting room offers a rotation of its estate-grown Washington reds. 10 Post St.; daily noon-6 pm
V du V Wines
Focused on reds, V du V's tasting room inside the winery is hosted by the owners and winemakers, who will lead you through samples in a room that was once the "explosion-proof room" of the Moreland Tire Co., now refurbished with recycled wood and steel and showcasing rotating art on the walls. 12 S. Scott St., Fri 3-6 pm, Sat 1-5 pm