For a month and a half last fall, locals and visitors from near and far were able to take a cultural journey to China without ever stepping foot outside of downtown Spokane.
The inaugural Washington State Chinese Lantern Festival was an unprecedented event for the city and the rest of the Inland Northwest — one of such grand scale that it was repeatedly compared to Spokane's famous hosting of Expo '74. For seven weeks starting in late September, a large, grassy swath of Riverfront Park was illuminated in rich, colorful light from more than 3,000 of the gem-hued lanterns. Handcrafted by a team of 20 artisans from Zigong, China, the festival showcased dozens of themed displays of adorable, crowd-pleasing animals and scenes of Chinese cultural significance. Attendance for the first-ever event surpassed expectations to such a degree, it was extended two weeks longer than originally planned.
Now, the Chinese Lantern Festival returns to Spokane for a second year, scheduled for five weeks from Sept. 23 through Oct. 30. Even if you were one of the 80,000 attendees who came to ooh and ahh at the 2015 version's fabric-covered lanterns, this year's festival features all new lanterns and displays, with the exception of the 196-foot-long dragon, a spectacular festival centerpiece.
Chinese Lantern Festival chair Sam Song — he was instrumental in bringing the event to Spokane, a process more than a year in the making — says that new and returning visitors to the festival can expect to see around 10 more grouped lantern displays compared to last year's 31, including one he's most excited about, "The Temple of Porcelain." The structure is covered by hundreds of thousands of pieces of traditional, blue-and-white flatware from China. It'll take a team of 10 artisans a full month to set up that structure alone, Song adds.
Building on last year's success, and considering lessons learned during the lantern festival's first year, the 2016 event will increase the duration and number of live performances by traveling Chinese acrobats and entertainers putting on nightly shows at the park's Lilac Bowl.
Near an area set aside for Chinese artisans to showcase and sell their work during the festival, Song says a special kids' activity that mimics digging for dinosaur bone fossils will contribute to the interactive, family atmosphere. Zigong, the home of the headquarters of the company bringing the lanterns to Spokane, is known for having the largest dinosaur bone deposit in China, he adds.
"Overall, it's going to be more like a big festival," Song says. "[Visitors] only saw the beginning last year. This year will stun them with not only bigger and brighter displays, but the festivities, culture, performances and some authentic food."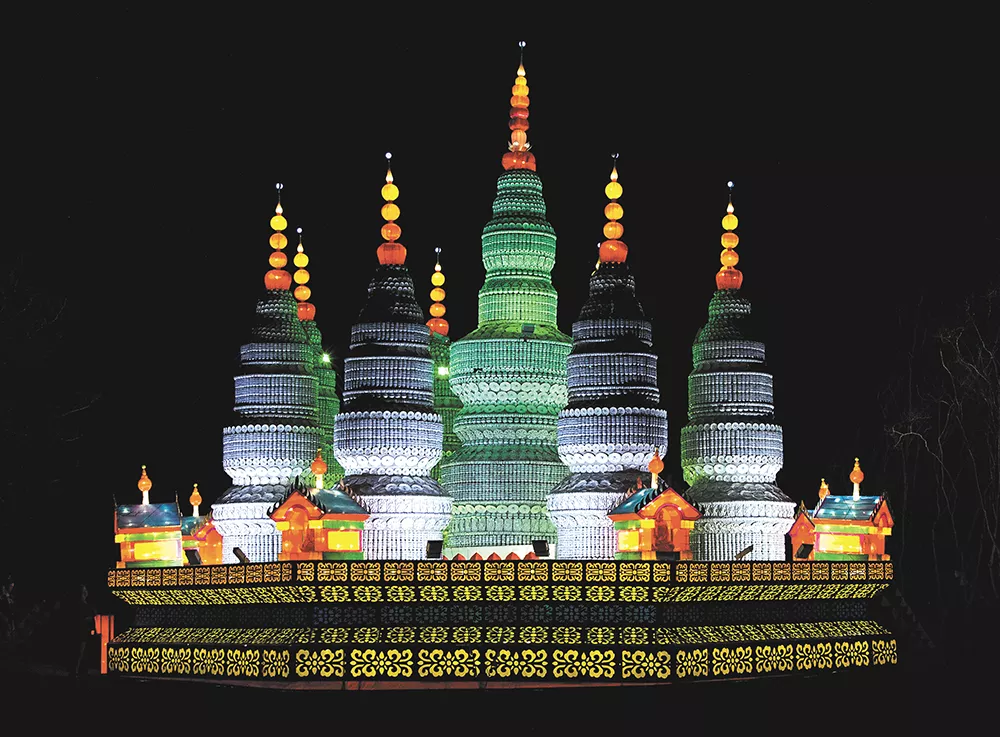 What's new in 2016
Ticket prices have been lowered, from $17 to $15 for adults and from $12 to $10 for kids. There also will be an option to purchase a family pass for unlimited access.
All lantern displays — except for last year's highlight, a 196-foot-long dragon — are new and different from last year's festival.
Besides the authentic Chinese food at the festival restaurant Deng Chu, a greater number of fair-style food vendors are setting up for a festival food court.
A dinosaur dig for children and families also has been added.