Tanden Launder has a knowledge of old Americana style far beyond his years. He's a simple yet stylish guy with an affinity for vintage goods and high-quality menswear, and he's the creator of Coeur d'Alene's booming Thrux Lawrence leather goods shop.
Launder founded Thrux Lawrence in 2012 and officially opened the storefront in 2014, with the goal of creating fine leather goods and "building them like they used to." The shop is full of high-quality items carefully designed with timeless appeal and old-fashioned American value.
Launder designs heavy-duty yet polished leather backpacks, dopp kits, briefcases, duffels and accessories, all made in-house from rolls of the finest leather and canvas.
The bags and accessories are all made in batches of less than 100 units, and Launder doesn't plan to change that. He already has a steady stream of loyal customers who value high-quality products and are willing to pay for them. Most of his bags run from $300 to $1,400. That may seem steep, but they're built to withstand the test of time.
"They get beat up, they tell stories, they get better with age," Launder says.
The shop is as rugged as the products themselves, with exposed brick walls, a billiards table and lights made from WWII bomb casings. To complete the "man cave" vibe, there's an attached full-service barbershop, Bulwark Barber, offering classic straight-razor shaves and modern styles with an old-school feel.
All of the manufacturing, wholesaling, retailing and online aspects of Thrux Lawrence happen under one roof — which Launder says is rare for any business — so there's always something going on at the shop. It takes three to four hours to produce each bag, and Launder says his team produces about 300 bags each month.
The company has quickly attracted attention, with products already being sold in stores around the country and worldwide. Launder has plans to open a second store on Seattle's lower Capitol Hill this fall, which he says will be the first of many.
Launder draws design inspiration from his extensive collection of vintage leather bags. His original business was buying and selling antiques and vintage menswear and accessories, but he soon realized he could make his own products, inspired by the heritage of the items he'd been sourcing and selling all along.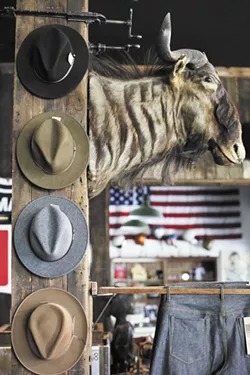 "We had no clue how to make leather bags when we started," he says. "It was reverse engineering — we saw that we had to have a strap that was a certain shape, so we made a strap that shape. We made a pattern and it took us 15 times to figure out what was going to fit together. It's still getting refined."
The Thrux Pack ($480) is the brand's signature bag. It balances a sleek silhouette and a functional, sturdy design — rugged enough to be taken on camping trips, yet classy enough to be carried around a city. The 28-liter leather-and-canvas pack is available in nine colors, each with solid brass hardware, adjustable shoulder straps and plenty of pockets.
Launder frequently partners with timeless American brands to learn from them and establish a connection between Thrux Lawrence and veteran companies with similar values. He carries products from centenarians Stetson and Pointer Brand, sources much of his leather from Horween Leather Company, and has a collaboration with Spokane-based White's Boots.
"There's not a lot of young blood in some of these companies," says Launder. "It's exciting to have someone who really wants to get behind what your great-grandfather started and keep promoting it."
Launder says people often ask why he chose to open up shop in North Idaho instead of in New York or L.A. He says that plenty of big-city brands travel to mountainous locations for photo shoots for their products, but then they return to the city.
"We really get to live our lifestyle," he says. "We get to ride our motorcycles, go shoot shotguns, and stay in fire lookout towers in the summer. We really do take our product into what I would say its natural setting is. We can just be the brand that lives out what it wants to be."