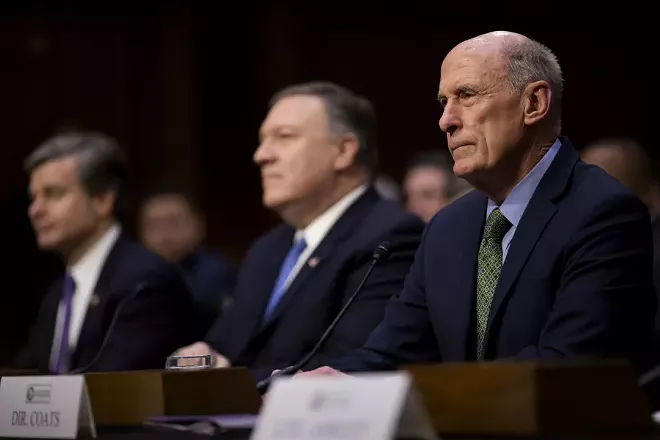 By MATTHEW ROSENBERG, CHARLIE SAVAGE and MICHAEL WINES
© 2018 New York Times News Service
WASHINGTON — Russia is already meddling in the midterm elections this year, the top U.S. intelligence officials said Tuesday, warning that Moscow is using a digital strategy to worsen the country's political and social divisions.

Russia is using fake accounts on social media — many of them bots — to spread disinformation, the officials said. European elections are being targeted, too, and the attacks were not likely to end this year, they warned.
"We expect Russia to continue using propaganda, social media, false-flag personas, sympathetic spokespeople and other means of influence to try to exacerbate social and political fissures in the United States," Dan Coats, the director of national intelligence, told the Senate Intelligence Committee at its annual hearing on worldwide threats.
Coats and the other intelligence chiefs laid out a pair of central challenges for the United States: contending with the flow of Russian misinformation and shoring up the defenses of electoral systems, which are run by individual states and were seen as highly vulnerable in 2016.
"There should be no doubt that Russia perceives its past efforts as successful and views the 2018 U.S. midterm elections as a potential target for Russian influence operations," said Coats, testifying alongside CIA Director Mike Pompeo, FBI Director Christopher A. Wray and other leading intelligence officials.
"Throughout the entire community, we have not seen any evidence of any significant change from last year," Coats said.
The warnings were striking in their contrast to President Donald Trump's public comments. He has mocked the very notion of Russian meddling in the last election and lashed out at those who suggested otherwise.
Trump has not directed his intelligence officials to specifically combat Russian interference, they said.
Russia appears eager to spread information — real and fake — that deepens political divisions. Bot armies promoted partisan causes on social media, including the recent push to release a Republican congressional memo critical of law enforcement officials.
The bots have also sought to portray the FBI and Justice Department as infected by partisan bias, said Sen. Mark Warner of Virginia, the top Democrat on the intelligence committee.
"Other threats to our institutions come from right here at home," he said. "There have been some, aided and abetted by Russian internet bots and trolls, who have attacked the basic integrity of the FBI and the Justice Department. This is a dangerous trend."