ONE LESS WHISKEY OUTPOST
Venues coming and going is part of any living, breathing downtown, but it still hurt to hear the Observatory was closing. In its roughly three years, the bar in the former home of the Blue Spark and Underground 15 became a valued spot for hearing killer live music and throwing down a delicious beverage — and the people who packed the final night Saturday for an Indian Goat show can attest to that. While we pour one out for the dearly departed Observatory, we can only hope someone comes along to bring the cozy corner of First and Howard back to life. (DAN NAILEN)
---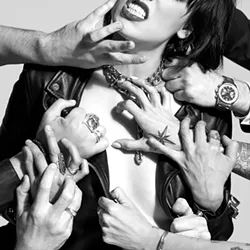 THIS WEEK'S PLAYLIST
Some noteworthy new music arrives online and in stores July 27. To wit:
HALESTORM, Vicious. The hard-rock crew is headlining the Arena Aug. 16.
KENNY CHESNEY, Songs for the Saints. Wonder how many songs about beers and beaches on this one? Warning: Jimmy Buffett makes an appearance.
CODY JINKS, Lifers. The rising country cat headlines the Knitting Factory Aug. 12.
DEE SNIDER, For the Love of Metal. The 63-year-old Twisted Sister frontman apparently still wants to rock. (DAN NAILEN)
---
ENDURING LEGACY
Spokane lost one of its most noteworthy artists over the weekend with the death of Sister Paula Turnbull. She's probably best known for the Garbage Goat, which she sculpted for Expo '74, but the works and reputation of "the welding nun" stretch far beyond one trash-consuming corner of Riverfront Park. She has public works throughout the region and taught up-and-coming artists for decades, so Sister Paula's legacy will certainly live on. She was 97. (DAN NAILEN)
---
ANOTHER MAN'S TREASURE
Junk Church, the Sunday flea market that originated at Stella's sandwich shop, is reopening for service. Berserk, downtown's newest bar (125 S. Stevens), is where new congregations will gather, starting this Sunday at noon. Despite its name, Junk Church isn't some kind of dumping ground: Its wares — vinyl and cassettes, VHS tapes, collectibles and knick-knacks — are top-notch, many provided by local artists and boutique owners participating. It's all ages, but there will be a Bloody Mary bar for those over 21. (NATHAN WEINBENDER)
---
LILAC CITY STEALS THE SCENE
Indie-rock good guys the Hold Steady have been M.I.A. — their last album was 2014's Teeth Dreams — but they're back on the road this summer, and to launch their tour they released two new songs, "The Stove & the Toaster" and "Star 18." The latter kicks off with the kind of intriguing imagery frontman Craig Finn is known for, and explains why I'm writing about them in this paper: "I know we made plans to be in Spokane, but the way I make plans, you've gotta take it with a grain of salt. I got jammed in Alabama and I was trying to get all of it resolved." Suffice to say, "Star 18" is a jam, and you can hear it at holdsteady.bandcamp.com. (DAN NAILEN)