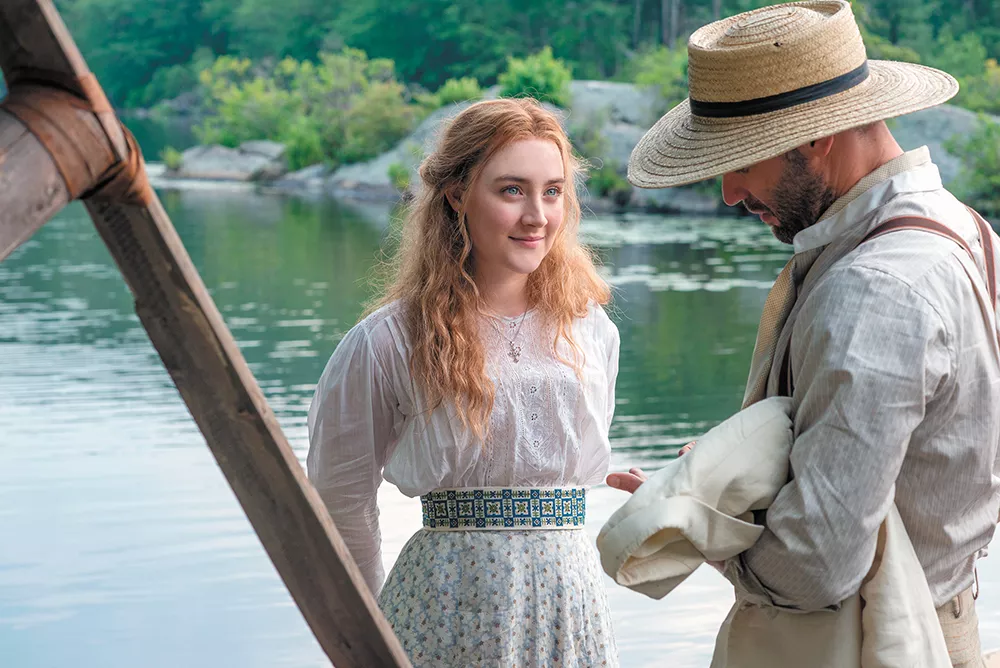 Translating a stage play to the big screen already has its built-in complications, but adapting the work of a figure as towering as Anton Chekhov is a whole other minefield to navigate. Chekhov's work can seem talky and dense in the wrong hands, and so many of his narrative innovations have since become overworked conventions.
The Seagull is the latest attempt at turning one of Chekhov's most famous plays into a feature, and the results are admirable, though hardly earth-shattering. It's not nearly as didactic and challenging as you might expect; it's downright approachable, in fact. But it's also curiously emotionless, despite its actors' best efforts.
The story is set in the early 20th century, at a country estate overlooking a lake outside Moscow. The house is overseen by Irina, a 50-something theater star (Annette Bening), and her ailing older brother (Brian Dennehy). Irina's current lover is the revered writer Boris Trigorin (Corey Stoll), who's a good decade younger than her and is making waves in the literary world.
Also cooped up in the house is Irina's mopey son Konstantin (Billy Howle), who sees himself as the savior of theater, even as his own mother expresses bafflement at his work. Konstantin's girlfriend is the dewy-eyed Nina (Saoirse Ronan), who has lived on the lake her whole life but now longs for the allure of the spotlight. Masha (Elisabeth Moss), the daughter of the house's groundskeepers, swills vodka and always wears black because she's never not in mourning.
There are romantic entanglements, naturally. Nina pines for Boris, who validates her theatrical aspirations. Masha aches for Konstantin, but he's too wrapped up in his own troubles to notice. The meek schoolteacher (Michael Zegen) chases after Masha, likely because he's a glutton for punishment, and knowing that she'll probably settle for him only sends Masha further into depression.
And yes, there is a gun introduced in the first act. And yes, it is used in the third (and also in the second, come to think of it).
The Seagull is, at its core, a story of performative competition, as these larger-than-life people use their inherent theatricality as a means of tearing one another down. They become consumed with drama because they have nothing better to do, and they are cruel to each other because they seemingly don't know any better.
Much of Chekhov's work has a cheeky metatextual streak running through it, and The Seagull is no different. Characters comment on the very function of storytelling as if they're aware they're in a story, going so far as to question the significance of the obvious symbols being dropped around them (Boris, Nina and Konstantin each apply their own meaning to the titular bird). And surely Chekhov saw himself in poor Konstantin, particularly after The Seagull's disastrous 1896 premiere.
Louis Malle's 1994 film Vanya on 42nd Street channeled that playfulness perhaps better than any other big-screen version of Chekhov: It's simultaneously a stripped-down adaptation of Chekhov's play Uncle Vanya and an examination of the contemporary actors performing that play. This version of The Seagull is, by comparison, not unlike a handsome production you might see late at night on BBC.
We know that none of these characters will turn out truly fulfilled — that's just the nature of the form — but when tragedy inevitably strikes, the movie is at an emotional remove. Oddly enough, my feelings about the film are somewhere in between Konstantin's and Irina's own feelings about art: He wants to reinvent an entire artform, while she scoffs at the need for experimentation and abstraction. This movie isn't bad by any means, but perhaps an author as familiar as Chekhov requires a more daring, 21st-century approach. ♦